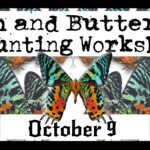 October 9 – 8:00pm – 10:00pm
BUTTERFLY AND MOTH PINNING WORKSHOP –
Single Ticket – $65 (US)
Better in pairs (2 tickets) – $100
These delicate critters can seem like a daunting challenge for a first timer, but with a little knowledge and a guiding hand, you will be able to start collecting specimens and mounting them yourself! We will talk about several preservation methods and also different ways to present you flutterby. We will also be bringing a few extra specimens for the "heavy handed." If at first you don't succeed, trade in your broken baby and give it another go. We will be using the beautifully iridescent Urania Sunset Moth. (I know, I said butterfly, but this is a species that is a moth in name only.) 
Because of the intensity of the project, we are limited to only 4-5 seats to ensure everyone gets our full attention.  
Event begins at 8:00 pm. Feel free to arrive early to browse through the shop, enjoy some drinks, snacks and get settled in.  And as usual…  water, cheap beer and lite snacks will be available but feel free to bring your own fancy treats if you so desire.
8:00pm – 10:00pm
Hail Dark Aesthetics 
720 Main St
Covington KY 41011
Upcoming Workshops
October 27 – Ready to learn how to preserve and pin your very own butterfly/moth mount? This is the workshop for you!
Interested in bringing a friend or attending both events? Make sure you check out our 'Double Your Fun' Tickets!