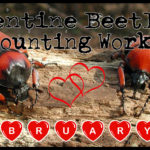 FEBRUARY 14, 2019 – BEETLE MOUNTING DATE
Couples Ticket (2 tickets, 2 beetles any gender) – $100
Threesome Additional Ticket (1 ticket, 1 beetle)- $59
Nothing says 'I love you' like an evening of pinning bugs, eating cheese and drinking wine in the middle of a record and oddities shop.  What can be more romantic than that?!
This 2-hour date covers the techniques of preserving and mounting large beetles. Each couple will go home with their very own mounted pair of Fornassinus russus, velvety red flower beetles.
Have more of a love triangle? Check out our additional threesome ticket.  We have plenty of buggies to satisfy all persuasions.  
Whether flat mount or in the round, what your beetle pair ends up doing is totally up to you all. We're not judging;)
Beetles, light refreshments, beer and wine included for all guests.